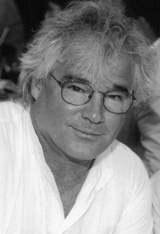 David Douglas
Writer, Director & Cinematographer
David began his filmmaking career by making a multiple image documentary while in high school. This effort led to a 1970 meeting with, and employment by, the principals of a film company called Multiscreen. Those men were Robert Kerr, Graeme Ferguson, Bill Shaw and Roman Kroitor, the inventors of the IMAX® system and the fathers of the large format film industry. Now, with over thirty years in the medium, David Douglas is the industry's most experienced cinematographer, having photographed over thirty films for IMAX® Corp. and other clients. Among his directing credits are large format benchmarks such as Oscar nominated Fires of Kuwait, critically acclaimed Survival Island and the first IMAX® concert feature Rolling Stones: At the MAX. In 2002 he was honoured with the KODAK VISION award.
When IMAX® founder Graeme Ferguson created the IMAX® Space Team, David spent 18 months training dozens of astronauts to be filmmakers. He supported their orbital efforts from mission control on 14 shuttle flights and shot the terrestrial images for the IMAX® Space Series: The Dream is Alive, Blue Planet, Destiny in Space, and Mission to Mir. Working with Primesco Communications he wrote, directed and photographed Wolves for the National Wildlife Federation. David Douglas' film, Straight Up: Helicopters In Action premiered at the Smithsonian Institution's National Air and Space Museum, in Washington, D.C. David Douglas works in partnership with Producer, Diane Roberts.
In 2005 Fires of Kuwait received the GSTA Maximum Image Award for Best Classic IMAX® Film. The film joins only three other films with this designation; To Fly, The Dream is Alive and Blue Planet.
Another contender for the Maximum Image Award was Rolling Stones: At the Max. This concert film captures the world's greatest rock and roll band on their massive "Steel Wheels" tour.
Douglas designed and directed Orbital Map, a large format digital exhibit for the Royal British Columbia Museum and a second one for the Harley Davidson Museum in Vancouver BC. Further IMAX® credits as cinematographer include; Ride with the Cowboys for Trinity Films, which shot in British Columbia, Spain, Morocco and Mexico, Wild Ocean 3D, for Yes No Productions, producers of the acclaimed STOMP IMAX® film, the 2007/8 Journey to Mecca with SK Films, Hubble 3D for IMAX® Corp, as well as the forthcoming Born to be Wild 3D, an IMAX® Warner Brothers production.
Diane Roberts
Producer
Emerging from a background of innovative commercial television and award-winning feature film production in the UK, Europe, Africa and Canada, Diane worked with Chris Parsons OBE and Sir David Attenborough, two men who defined excellence in natural history documentaries. She has been involved in producing many IMAX® films all still in release: The Secret of Life on Earth, Survival Island, Rolling Stones at the Max, Wolves, All Access, Straight Up, Helicopters in Action, Journey to Mecca and the Academy Award nominated Fires of Kuwait.
She has also worked on several IMAX® productions as a consultant, Class One World's Fair projects and international exhibits combining HD audio visual display for Museums. Currently Diane is acting a Supervising Producer on Born to Be Wild 3D, a new IMAX Warner Bros., film for release in Spring of 2011.
These projects demand a great deal from a producer; Survival Island, shot in the South Atlantic, The Secret of Life on Earth, shot in 57 locations across the world, Rolling Stones at the Max, shot in 4 countries with all the attendant problems of shooting the most successful rock band in the World, and Journey to Mecca which brought three specially trained IMAX units into the heart of the Holy Kabbah. Diane has brought an unbroken series of difficult giant screen projects to successful completion: on time and on budget.